Decorate Flat Stanley's Travel Capsule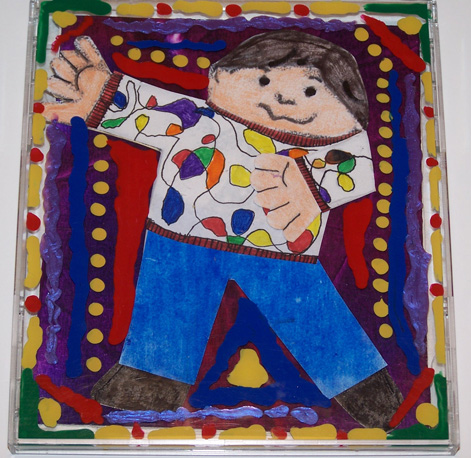 CD jewel cases, or the containers that hold compact discs, are very difficult to recycle. Made out of polyvinyl chloride, most recycling centers won't accept PVC products, so millions of the jewel cases end up in landfills. There, they will take up room indefinitely, because they won't biodegrade or decompose. However, we can help save landfill space by reusing the cases to make art, and they'll be just the right size to make a personal Travel Capsule for Flat Stanley.
You Will Need:
CD jewel case (standard size)
T-shirt paints
Newspapers
How to:
| | |
| --- | --- |
| | Place newspapers on your work surface. Open the jewel case. Place Flat Stanley face side down on the table under the long side of the container. Use the T-shirt paints to squeeze out dots and squiggly lines creating a frame all around the inside of the container and around Flat Stanley. |
| After finishing, close the case with the painted side down against your desk or table. The paint will dry in about twelve hours. Since T-shirt paints are permanent, decorating the inside will protect your clothing from accidents. | |
| | When the case is dry and you're ready to pack Stanley and his belongings for the trip. If necessary, fold one arm in at the elbow so that he'll fit in the Travel Capsule. Place Stanley on the painted side of the container so that he can see out. |
| Next pack his journal, letter, and other materials such as a postcard or bookmark. Close the case, and put it into an envelope or other shipping container and mail. | |
Tips and Tricks:
If you want to send Flat Stanley in this travel capsule, it will be necessary to shrink him to 60% of his original size (using a scanner or copy machine).
If you don't have a CD jewel case for this project, check with your recycling center. Since they are so plentiful and hard to dispose of, someone at the center may be happy to give you some.
A standard case will work better than the slim variety, because you'll be able to put more things in it for Stanley's trip.
Instead of using paint, decorate the Travel Capsule with cut paper, collage, or stickers.
Other Flat Stanley Art Activities
Thanks to Dale Hubert, creator and moderator of the Flat Stanley Project www.flatstanleyproject.com, for providing general information about the book, how the activity works, and for giving us permission to use the project in this art/reuse activity.
© 2007 Marilyn J. Brackney
Volume 19 No. 3

Return to Departments