Design a Bookmark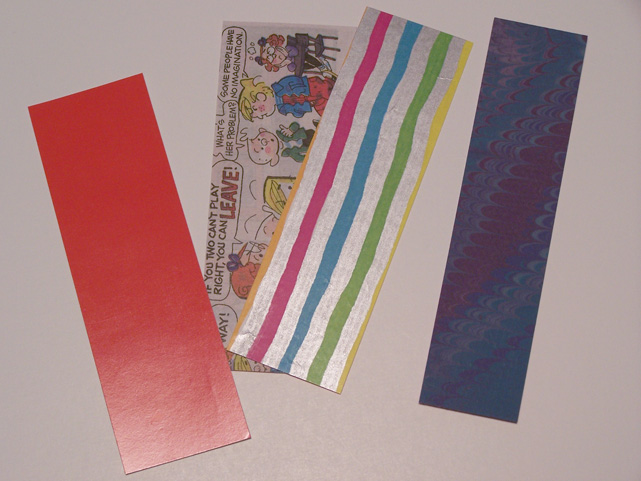 There are many types of waste paper that can be reused to make bookmarks, and including one in Flat Stanley's Time Capsule will be a nice "flat gift" for his host.
You Will Need:
Scraps of wrapping paper
Old calendar photos
Color comics
Recycled or scrap paper
Drawing materials
Scrap card stock
Glue stick
Paper cutter
How to: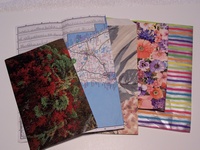 Choose the type of paper you wish to use for your bookmark, and cut it and the card stock so they each measure about 2" x 5". Glue the paper onto the card stock, and have an adult trim the bookmark so that the sides are square. If you prefer, draw designs on scrap paper using one of the techniques described in Ways to Decorate Flat Stanley. As before, glue the paper to the card stock, and trim.
Tips and Tricks:
If you don't have access to a paper cutter, have an adult cut the cardboard using a utility knife in combination with a triangle, T-square, or ruler to keep the corners square.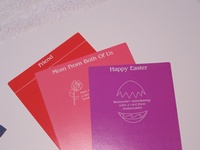 Reuse the plain side of old greeting cards for the card stock, or look for lightweight cardboard at gift shops. When the clerks restock greeting cards, they usually throw the old cardboard away, and sometimes you can find beautiful colors, especially around the holidays.
Reading Is Fundamental is a national program that was founded by former teacher Margaret Craig McNamara. Since its beginning in 1966, community volunteers have provided children with more than 265,000,000 new, free books to encourage children to learn how to read. Visit RIF Reading Planet for fun activities and to learn more about children's books.
Other Flat Stanley Art Activities
Thanks to Dale Hubert, creator and moderator of the Flat Stanley Project www.flatstanleyproject.com, for providing general information about the book, how the activity works, and for giving us permission to use the project in this art/reuse activity.
© 2007 Marilyn J. Brackney
Volume 19 No. 2

Return to Departments