This Week's Activity
---
Previous Activities
---
Trash Matcher
---
---
Firefighter Angel

Production Department

Most people are familiar with traditional recycling methods. However, our techniques teach them how to reuse items that are often thrown away, and the projects usually involve solid waste that cannot be commercially recycled. The materials we suggest are a ready source of inexpensive art supplies for parents, teachers, and others who work with children.
You Can Use Trash to Make Art, Too
If you look around your house or school, you'll find many scrap materials that can be recycled in art projects. These include items such as junk mail, magazines, bottle caps, and small pieces of gift wrap. Reuse old file folders, shoe boxes, and other containers to store your materials until you need them. Bookmark this site, and come back. Each week or so, we'll present a new project, and you'll find art/recycling tips and past projects in Previous Activities.
This week's activity.
Tie and Dye a T-shirt
Art/Recycling Guidelines
When you work, remember that you can successfully use trash as art materials if you follow these simple steps:

1. Treat scrap materials with the same respect you give to art supplies bought at the store. What you work with is not as important as what you do with your materials.


2. Try to use new and interesting ways to make art. You're familiar with drawing and painting, but there are many other ways to create. We'll introduce you to some of them.


3. Always think about craftsmanship and neatness when making art. This is especially important when you're using trash or solid waste as art materials. Work with clean hands, take care of your art equipment and work space, and look over your art to make sure it's in good shape before displaying it.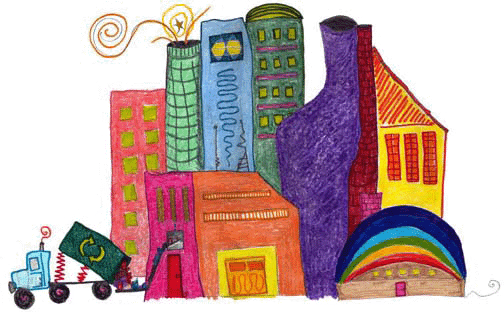 Return to Departments
Previous Activities
Select this to choose other activities.

© 1996-2008 Marilyn J. Brackney, All Rights Reserved
Text and images may not be copied
without permission of the author