Junk Mail Jewelry

Commonly referred to as junk mail, the letters, flyers, and brochures sent by direct marketers are often very colorful and well designed. While we may prefer to not receive this type of mail, you can help the environment and save landfill space by making paper beads from it. Many of the mail pieces you receive are varnished, making this type of paper expensive to recycle. Because of their coated surface, however, beads made from junk mail are very strong and fairly waterproof.
You will need:
Junk mail with a coated, shiny surface
Newspapers to keep area clean
Broken jewelry to string with paper beads (optional)
Ruler, pencil, and scissors
White glue
Round tooth picks
Strong, thin string, such as kite string
Needle for threading beads
How to:
Cut the paper into small strips approximately 3/4" wide by 41/2" long. Roll each bead by wrapping it tightly around a toothpick. Complete the bead by gluing the last 1/2" of the strip. Remove the toothpick and repeat until all the beads are made.
Beads of different sizes may be made by varying the dimensions given. For example, to make the beads bigger, use longer strips of paper. Change the width of the strips to make wider or narrower beads.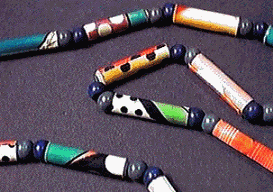 When stringing beads, alternate handmade paper beads with beads rescued from broken necklaces and bracelets, or make your own with pulp papier mache mixture. Tie a knot in the string to complete the necklace, or use a professional clasp which may be purchased at a craft store.
Tips and Tricks:
You can also use magazine covers and other slick papers to make beads. Even materials with some printing will do, since only the last inch or so of the bead is visible.
© 1996 Marilyn J. Brackney (updated 2018)
Volume 2 No. 1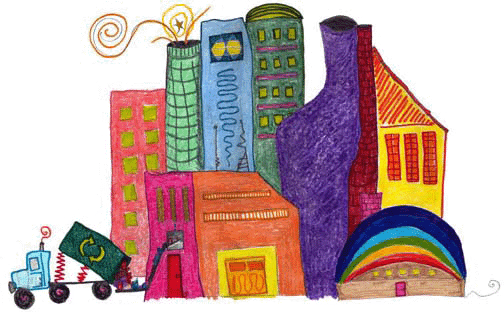 Return to Main Web Page
Previous Activities
Select this to choose other activities.