Yellow Neon Chandelier by Dale Chihuly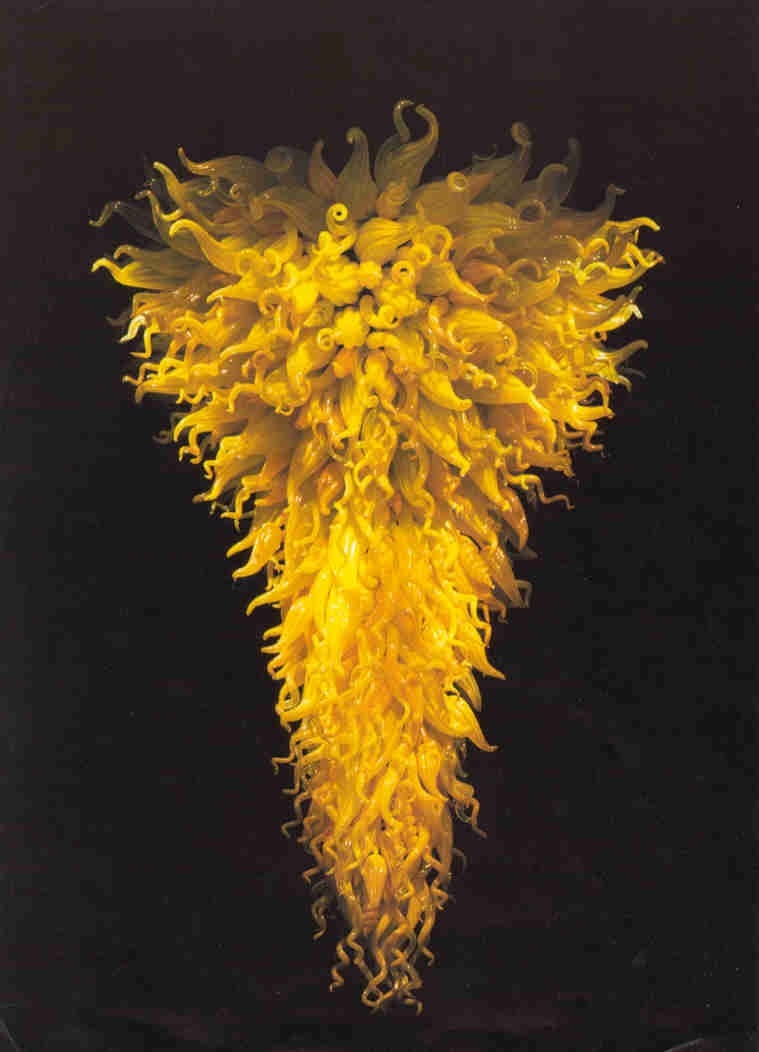 Glass is so common in our everyday lives that we seldom give it a second thought. We drink from glass, some of us wear glasses in order to see better, and it protects us from the cold, wind, and rain. For the most part, the material serves useful purposes, but when glass is put in the hands of an artist, it can become something very special.
One such artist is Dale Chihuly. Internationally known, he is recognized as a leader in developing glass blowing as a fine art. His work is collected worldwide by individuals and museums, and he has won numerous awards for his creations. Chihuly is co-founder of the Pilchuck Glass School, an international glass center, in Seattle, Washington.
In 1968, he received a Fulbright Fellowship to study glass blowing at the Venini Factory in Venice, Italy. While there, he noticed how the artisans worked together as a team to blow glass. Inspired by their example, he uses this team approach today to produce his work.
Chihuly created the Yellow Neon Chandelier for the Columbus Visitors Center. The light fixture is one of the main features of the center, and it hangs in the two-story bay window and staircase. Kids love its bright, yellow color and fun shapes, and adults admire the chandelier for its beauty and the skill and craftsmanship that it took to make the piece.
Created in 1995, the chandelier is made of 900 pieces of hand-blown glass. Weighing more than 1,000 pounds and measuring nine feet long and six feet wide, it contains 500 feet of neon tubing. To learn about the histories of neon and glass, click here, and visit the Chihuly Web site to see more examples of his work.
Click on any image to enlarge.
Thanks to the Columbus Visitors Center for providing the top photo of the Yellow Neon Chandelier. Located at 5th and Franklin Streets, the center offers a preview video of the architectural tour, models and photographs of the buildings, and a gift shop. For more information about Columbus and its architecture and art, visit the Columbus Visitors Center Web site.
---
Contact us at: kidatart@kid-at-art.com
© 1996-2004 Marilyn J. Brackney, All Rights Reserved
Text and images may not be copied
without permission of the author

Return to a Kid's Columbus