For more than 100 years, this popular ice cream parlor was known as Zaharako's Confectionery. In 2007, Columbus businessman, Tony Moravec, acquired it. In tribute to its founders, Moravec kept the Zaharako identity, but he renamed the business Zaharakos Ice Cream Parlor and Museum. After extensive renovation, with great attention paid to the smallest details, Zaharakos was reopened on June 6, 2009. As Moravec has said, "If it's not the best ice cream parlor in the United States, Zaharakos is certainly one of the best."
We encourage you to visit the official Zaharakos Web site, which is linked at the end of this article. To gain a greater appreciation of the renovation, however, you may wish to read through the following and look at the older photos below. Also, we'll continue to post this section in tribute to the Zaharako family. We thank them for providing wonderful memories for generations of Columbus families and visitors, and for making Zaharako's Confectionery such a special place to visit.
---
Zaharako's Confectionery
We're sorry to report that the grandson of James Zaharako, one of the three brothers who founded Zaharako's Confectionery, passed away on June 21, 2006. Lew Zaharako was part owner of the ice cream parlor where he loved to talk to his customers and share stories about the establishment.
Each summer, my art students and I enjoyed visiting Zaharako's, eating ice cream or drinking flavored Cokes, being inspired by the beautiful stained glass and architectural elements, and drawing what we saw. Lew always looked forward to hosting my classes, and we loved visiting with him and his cousin, Annie, who passed away in 2009.
---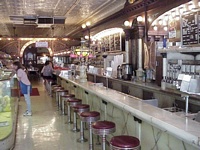 A Columbus landmark and a "must-see" for kids is located downtown on Washington Street directly across from the new Commons. Popular from the day it opened on October 20, 1900, The Greeks, or Zaharako's Confectionery as it is known today, was founded by three brothers from Greece. At the time, it was common for settlers from abroad to become shopkeepers, and a relative in Richmond, Indiana advised James, Pete and Lewie Zaharako that Columbus would be a good place to open an ice cream parlor and candy store.
After helping to run Zaharako's for many years, Lewie and Pete moved on to other jobs. That left James who stayed with the ice cream/candy store until he passed away in 1945. His sons, Gus, George, Pete, Lewie and Manual, inherited the business, and it's now run by a third generation, Ann Dutro and Jim, Lew, and Ted Zaharako. Ann and Jim are the children of Manual, and Lew and Ted are Lewie's children.
In 1905 the opening of a new high school just a few blocks away proved to be very good for business, and Zaharako's popularity increased when the Pearl Street gymnasium opened twenty years later. By the 1940s, the ice cream shop became a favorite hangout. Zaharako's was "the place to be seen" after school hours, and it was a gathering place for kids after ball games and even the prom.
Today people come back to Zaharako's just to enjoy an ice cream treat and remember the days when they were teenagers. Many times they bring their children or grandchildren along, and visitors to Columbus happily discover the ice cream parlor as they take the walking tour of Columbus. They all like coming to Zaharako's, because it's very different from the ice cream stands and stores most of us see today.
A Visual Delight
Yummy! Great! Delicious! Hot fudge sundaes, ice cream sodas, Green Rivers, sarsaparillas, phosphates, and flavored Cokes? No, we're not talking about the ice cream and other tasty treats served at Zaharako's. We're describing the inside of the 100-year-old ice cream parlor. It's a visual delight, and there's something beautiful and interesting to see wherever you look.
Let's take a virtual tour. Climb up on a swivel stool at the counter to see one of the most impressive sights. The onyx soda fountain, with its Italian marble counter top, stretches the length of the ice cream parlor's main room. It came from the 1904 St. Louis Exposition & World's Fair. In the center there's a beautiful Tiffany-style lamp made of rose, green and golden yellow stained glass. Behind the counter is a mahogany backbar that was added in 1905. Notice its mirror and stained glass, and you can even see the Zaharako name way up at the top.
Twirl around on your stool to see the large, old-fashioned candy display cases. No doubt they once featured the chocolates and haystacks that were made here until the early 1950s. That was way before you came along, but your parents or grandparents will remember. We bet the glass showcases even held penny candy back then! Before you climb down, look up to see the high, tin ceiling impressed with beautiful designs.
A few steps will take you through a fancy wooden arch into the back room or dining area. At the very front is a table with wire chairs just your size! Columbus children have enjoyed ice cream and soda fountain drinks at this little table for generations. Today many of them bring their grandchildren and great-grandchildren to Zaharako's. Notice that the dining room walls are covered with large mirrors trimmed in carved oak. Very fancy!
Finally, no visit to Zaharako's is complete without asking someone to turn on the big pipe organ located at the very back of the room. The mechanical, full-concert organ, which the family had imported from Freiburg, Germany in 1908, has 185 pipes! It plays dozens of tunes featuring trumpets, clarinets, a saxophone, cymbals, flutes, a triangle, a snare drum and a bass drum. To learn more about this particular instrument, visit the Mechanical Music Index. After you've seen all this, the best way to complete your visit to Zaharako's is to have that ice cream treat or flavored drink. They, too, are yummy, great and delicious!
In the fall of 2000 the Zaharako family was honored to receive an award from the Bartholomew County Historical Society and the Columbus Area Chamber of Commerce recognizing their 100th year in business.
Congratulations, and happy birthday! May you have many more!
Click on any of the small images below for a larger version.
© 2001-2010 Marilyn J. Brackney, All Rights Reserved
Text and images may not be copied
without permission of the author

Return to a Kid's Columbus