Robert N. Stewart Bridge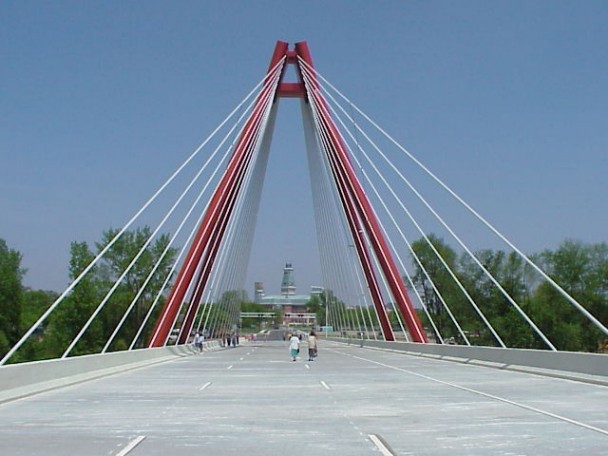 While we usually think of an architect in relation to buildings, sometimes this special type of artist is called upon to create designs for bridges. Paul Kennon, Dean of the Rice University School of Architecture, was hired in 1988 to develop a major plan for Columbus' Front Door Project. The purpose of the plan is to develop an attractive and efficient entry to the downtown area.
The first phase was to design a new overpass at the Interstate 65 and Highway 46 interchange. Located on the west side of the city, the double-ribbed steel arch designed by J. Muller International and built by Milestone Contractors has won several awards for outstanding engineering and construction.
The next part of the Front Door Project is the Robert N. Stewart Bridge, formerly known as the Second Street Bridge. It, too, was constructed by Milestone working from a design by J. Muller International. Spanning the East Fork of the White River, the suspension bridge is 465 feet long and 80 feet wide.
The four pylon legs, which measure 4.5 feet in diameter and 122 feet in length, come together 95 feet above the bridge deck. Forty cables arranged in a fanlike pattern run from the pylon head to the bridge. The cables vary in length, with the shortest being 110 feet and the longest 240 feet.
The bridge was dedicated on Saturday, May 8, 1999. Since it was not opened to automobile traffic till the following Monday, Columbus residents and visitors were allowed to stroll across for a better view of the river and the surrounding area.
After the ribbon cutting ceremony, thousands of kids and their parents flocked to the bridge to enjoy a community picnic, face painting, and musical entertainment. The Robert N. Stewart Bridge is an important addition to the architecture of Columbus, and it provides a safe crossing for more than 32,000 vehicles every day.
In the picture above, the bridge's legs frame the Bartholomew County Courthouse and the First Christian Church Tower in the distance.

Full view of Robert N. Stewart
Bridge and Courthouse

Bridge and cable work

Overhead cable and pylon head

Close up of pylon head

Courthouse framed
in bridge

Bartholomew County
Courthouse

Looking north towards
the Third Street Bridge

Looking south from
the bridge
© 2001 Marilyn J. Brackney, All Rights Reserved
Text and images may not be copied
without permission of the author

Return to a Kid's Columbus