The James A. Henderson Playground at the Commons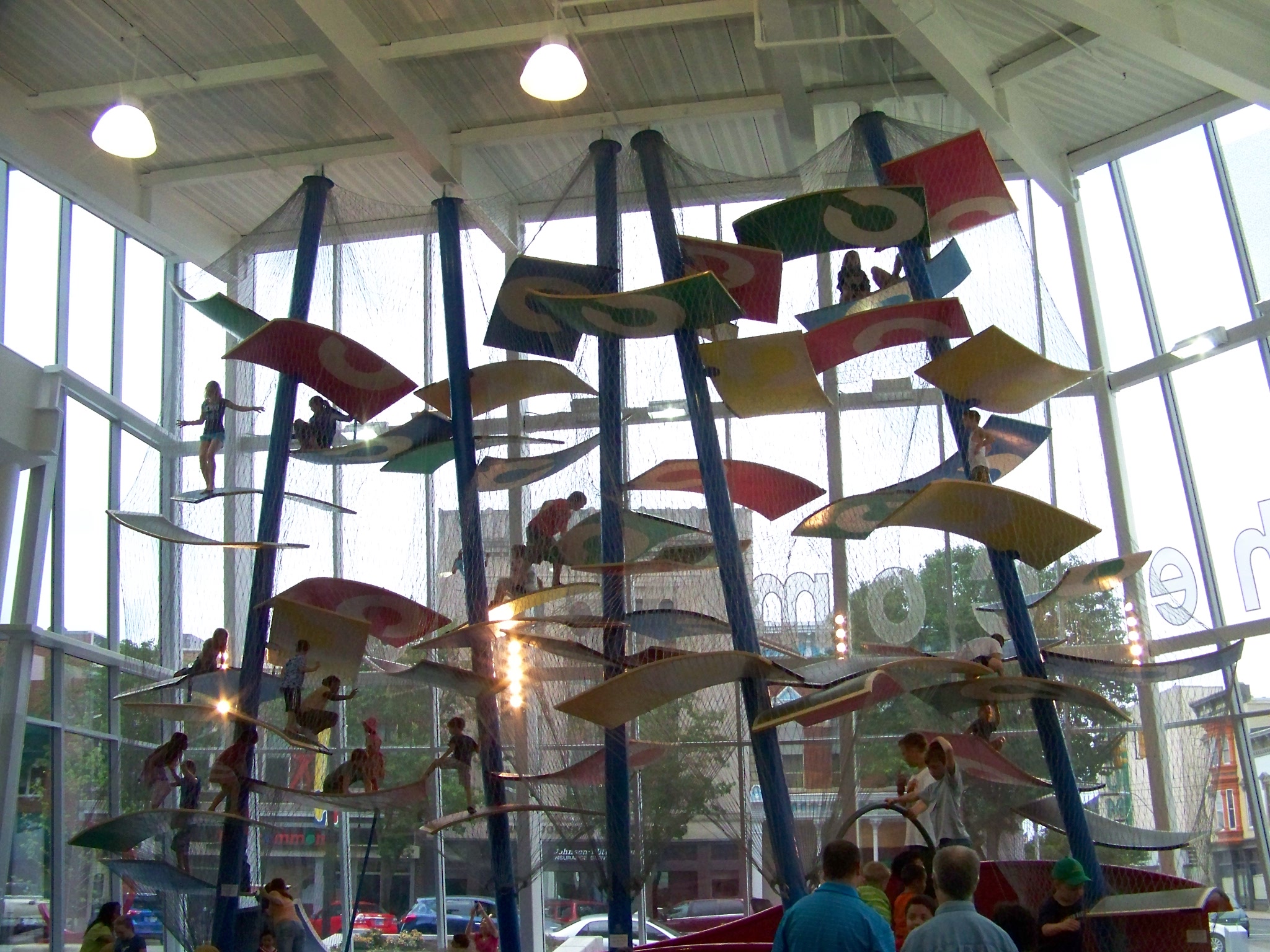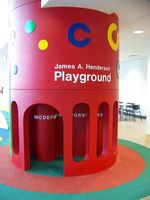 After being closed for more than three years, a new children's playground welcomed kids and their parents to The Commons on Saturday, May 14, 2011. Hundreds of delighted children streamed into the 5,000 square-foot play space named in honor of James A. Henderson, former CEO of Cummins Engine. Mr. Henderson led the drive that raised funds necessary for designing and building the playground.
Colorful slides, tunnels, steps, and ladders fill the bright, airy space, which is divided into three sections. They include the Toddler Area that's set aside for children who are six months to two years of age, the Preschool Area for the two to five-year olds, and the School Age Area for those who are five to twelve years of age. The centerpiece of the playground is the 45-foot tall Luckey Climber made of bent plywood platforms or steps encased in ten miles of aircraft cable.
Designed by Connecticut architects Tom and Spencer Luckey, the father and son refer to their work as biomorphic climbing systems. Museums all over the United States feature the unique playgrounds with reinforced netting, which allow children to scale to heights greater than those found on conventional play spaces. The elder Luckey views his structures more as sculptures to be climbed than as mere playgrounds, and the children moving about the space become a living part of the composition.
On opening day, the new playground received high praise from children who used words such as fun, fantastic, and cool to describe it, and those exploring the Luckey Climber generally had one thing to say, wow! Many parents, who themselves romped the original play space as kids, reminisced about the big, red tank, jungle gym, and Zoomerrange Slide, but after three, long years, all were happy to see the playground return, bigger and better than ever.
The James A. Henderson Playground hours are Monday through Thursday, 7:00 a.m.-9:00 p.m., Friday and Saturday, 7:00 a.m.-10:00 p.m., and Sunday, 10:00 a.m.-8:00 p.m. For more information, visit The Commons website at http://thecommonscolumbus.com/thecommons/.
Click on any of the small images below for a larger version.
© 2011 Marilyn J. Brackney, All Rights Reserved
Text and images may not be copied
without permission of the author

Return to a Kid's Columbus