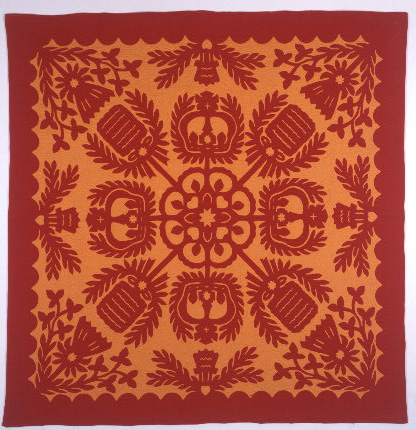 Before contact with Western societies, Hawaiians created most textiles by making kapa or bark cloth. In the early 1800s, missionaries introduced new fabrics and quilting techniques. Native artists adapted the materials and sewing methods, using their own sense of design to create Hawaiian quilts.
The missionaries also taught children how to cut snowflakes from folded paper. The adults liked this simple method of creating symmetrical designs, so they modified the idea, using Mother Nature as inspiration in their quiltmaking patterns.
A Hawaiian quilt is made of two, contrasting colors. The background piece is a cloth big enough to cover a bed, and the other consists of fabric cut into a large design. This cloth is appliquéd or sewn onto the top of the bed-sized piece.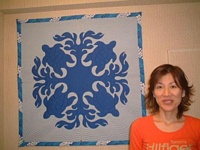 Some characteristics of Hawaiian quilts are a central appliquéd pattern that is symmetrical, and stitches that follow or echo the shape of the design. Motifs may include plants, flowers, and animals native to the state. This turtle pattern work by quilt artist Yumiko of Hawai'i is a good example.
You can get an idea of what it's like to create patterns for a full-sized quilt by making a much smaller square called a quilt block. For design ideas, study flowers, plants, insects, and animals that you'd see in Hawai'i. If you prefer, refer to some that are native to your area.
You will need:
Mat board scrap
Copy paper of a contrasting color
Pencil
Scissors
Glue stick
How to: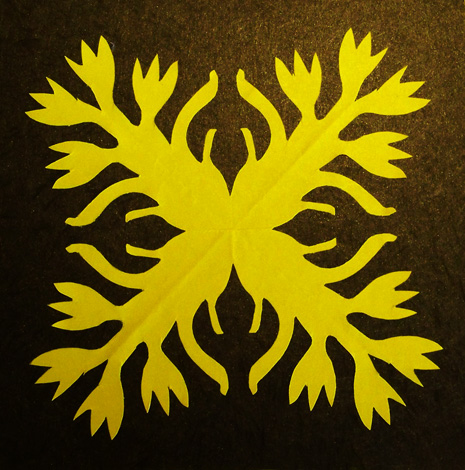 Cut a piece of scrap mat board so that it measures 8 x 8 , and cut the copy or other light weight paper 7 square. Fold the paper in half, and then fold it in half the other direction. Now crease it diagonally with one folded side touching the other, as shown.
Lay the paper in front of you so that the long, diagonal fold faces your right or left and the short, folded side is at the bottom. On this short side, measure in about two or three inches from the point where the long fold meets the short one.
Start your design here, using shapes from nature, such as flowers, leaves, an animal, or a combination of the motifs. Fill the remaining triangular piece of paper with the drawing, taking care to extend it to the sides and top. Keeping the paper folded, cut out the design. Now, carefully open, and glue it to the center of the mat board.
Tips and Tricks:
Reuse a sheet of copy paper to make the design. Create the work on the clean side of the paper, and glue the printed side down.
Substitute a solid-colored page of wallpaper from a sample book for the mat board. Employees at decorating stores or interior design studios are often happy to share old, outdated books.
Visit a picture framing shop to find scraps of mat board.
When working with large numbers of kids, display quilt blocks as a unit by hanging them side by side so that they form a bed quilt design.
To learn more about Hawaiian quilts, visit the following Web sites:
Hawaiian Quilting with Poakalani
Download free Hawaiian quilt patterns
Turtle-patterned quilt photo courtesy of Hawaiian Quilting with Poakalani.