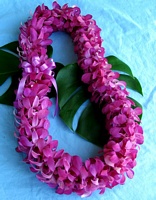 Worn around the neck and shoulders, a lei is a garland that's usually made of fresh flowers, seeds, leaves, vines, or fern fronds, but other items, such as seashells, can be used to create one. Introduced by the early Polynesians, the custom of making and giving lei (pl.) to others was a popular tradition that continues to this day.
In the early 1900s, tourists arrived by ship, and they were often greeted with lei. When leaving Hawai'i to return home, visitors would throw the flower garlands overboard as they passed Diamond Head. Many thought this was a good luck gesture, guaranteeing that like the lei, which floated back to the island, they, too, would return to Hawai'i someday.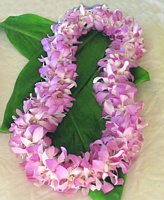 Whenever a big occasion, such as a wedding, occurs, friends and family often gather to make lei in celebration of the event. Graduation marks a special time in Hawai'i, and it's common for the person being honored to receive so many lei that he or she can barely see above them! Also, lei are commonly worn by hula dancers, and on May 1, everybody wears them in celebration of Lei Day.
Some of the most common flowers used in making lei include plumeria, lehua blossom, orchid, and pikake. Other natural items, such as maile leaves, ferns, and ti leaves are used, too. While you may not have these materials with which to work, you can reuse fabric scraps, paper, or just about anything to string into a lei. We'll save natural resources, energy, and landfill space by reusing polystyrene trays to make ours.
You will need:
Polystyrene trays
Yarn or string
Scissors
Large, embroidery needle
How to: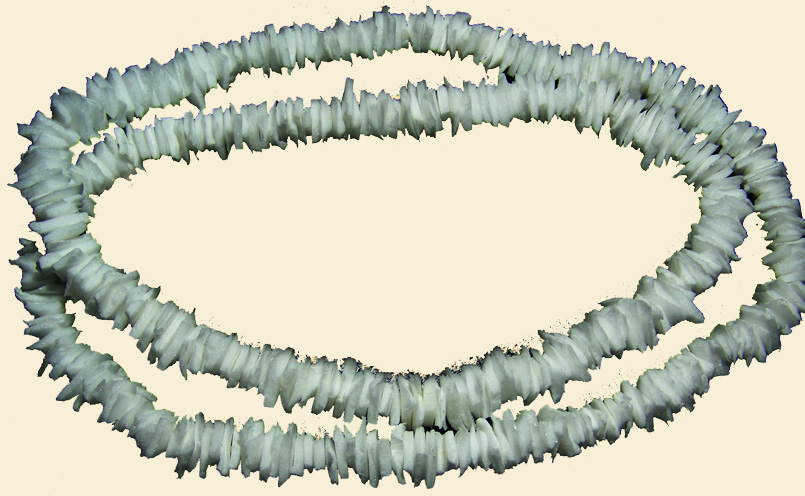 Polystyrene is a material used to make trays for packaging produce, baked goods, and meat. White is the most common color, but sometimes the trays are yellow or light green. You can string small pieces together to make a lei. To start, thoroughly wash and dry the trays to remove any bacteria. Break the polystyrene into one-inch pieces.
Measure the yarn or string so that it's 40 to 54 long, and thread the needle. Knot the line, leaving a tail that's about two inches long. Begin making the lei, taking care to thread the yarn or string through the center of each piece of polystyrene. Gradually push the polystyrene to the knot. When the line is full, take the needle through the first piece you've strung, and tie a knot in the ends. If necessary, clip the extra string or yarn.
Tips and Tricks:
In addition to traditional lei, they also may be worn around the head, wrists, and ankles. Use elastic to make these types.
The proper way to present a lei is to place it on the person's shoulders so that it hangs over in the front and back, not just around the neck.
You can order real lei and flowers from companies in Hawaii. The following are just a few that will ship flowers to the mainland. Visit
Paradise Flower Farms
,
Hawaii Flower Lei
or
With Our Aloha
. Lei photos in the top section are provided courtesy of the Hawaiian company ---- With Our Aloha.