Goodbye, Trashasaurus Rex!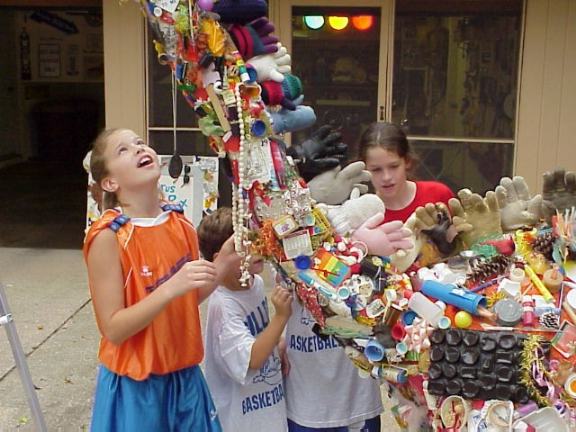 Trashasaurus has been adopted! Neighborhood children were invited to a farewell party on Saturday, September 23, 2000 for our mascot, Trashasaurus Rex. Kids were asked to bring a small piece of trash to glue onto the dinosaur and to help us with a final inspection before we said good-bye.
We had refreshments, posed for one last photograph with the beast, and we played a search game trying to find items on Trashasaurus. The creature began his latest adventure on the following Monday, traveling 700 miles to his new home, the Rocky Mount Children's in Rocky Mount, North Carolina. The museum is now part of The Imperial Centre for The Arts and Sciences.
The museum, which was devastated by floods caused by Hurricane Floyd in 1999, has moved to a new site and staff members are rebuilding its collection. We've been looking for someone to adopt the creature, but not just anyone! When we heard about the museum's loss, we knew we'd found the perfect match.
Columbus, Indiana, which has been home to Trashasaurus, is also the headquarters for Cummins Incorporated. The company has a plant in Rocky Mount, and management at the corporate office helped arrange transportation. A Cummins car van took the beast on the first part of his journey, and Landstar Express America completed the trip. Thanks to both of them! As Trashasaurus was loaded into the van, he could be heard humming the tune to the lyrics "Nothing could be finer than to be in Carolina in the morning." Have a good life, Trashasaurus!
Trashasaurus Rex has traveled hundreds of actual miles and millions of virtual miles in an effort to increase environmental awareness and to encourage recycling. We hope he will continue this important work in his new home in North Carolina. To celebrate his adoption, here are some party games to play (section below pictures.)
Click on the photos to see some of the kids and others who
came to say goodbye to Trashasaurus Rex and to celebrate his adoption.
Trashasaurus Party Games
Letter Scramble
How many words or abbreviations can you make from the letters in Trashasaurus Rex?
Word Search Puzzle Hundreds of nonrecyclable, solid waste pieces were glued all over the dinosaur's body. Trashasaurus is covered almost entirely with postconsumer waste materials, including many broken or mismatched objects, and lots of empty containers and lids. Some of the more interesting items are listed here.
While there are many animals mentioned in this puzzle, none used was of the endangered variety! Any creature listed is a plastic or stuffed toy animal. Find the names of the more unusual items, and circle them with a pencil. Words run vertically, horizontally, and diagonally. Have fun searching!
Click here to go to the puzzle page.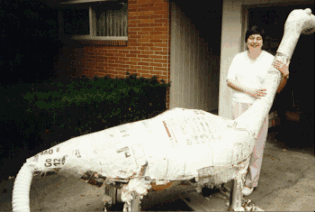 Trashasaurus Photo Gallery Here are some pictures of Trashasaurus, B.T. (Before Trash) and others taken during the early days of his creation.
Click here to go to the gallery page.
Where Did You Get All That Stuff? and Other Frequently Asked Questions
Click here to go to the frequently asked questions (FAQ's) page.
© 1997 Marilyn J. Brackney (updated 2018)
Volume 9 No. 3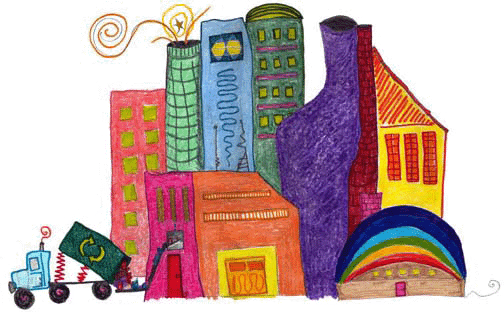 Return to Main Web Page
Previous Activities
Select this to choose other activities.