Stamp It!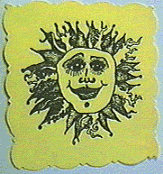 Paper takes up more space in landfills than any other type of trash, so recycling it is very important. Besides extending the life of landfills, recycling paper saves trees, conserves the energy needed to make new paper, and it decreases the pollution caused by its production. In this project, we'll learn about different sources of waste paper and ways to use rubber stamps to recycle the material to make useful items such as bookmarks, tablets, and stickers. The activity will help you save money as well as the environment.
When you make a painting or drawing, the finished work is called an original. This one-of-a-kind piece of artwork can't be duplicated by hand. Using rubber stamps to make art or crafts allows you to make copies of an original design, however. Making impressions and duplicating a design in this way is called printmaking. As a fine art, printmaking involves using equipment and materials which aren't available to most people. Rubber stamps are plentiful, relatively inexpensive, and fun to use, so they're a good introduction to this artform.
You will need:
Preconsumer waste paper
Ink pads
Rubber stamps
Colored pencils or
Colored markers (optional)
How to:
There are two kinds of waste paper which can be recycled. Postconsumer waste is made up of materials which have been used by the consumer and then discarded. Examples are newspapers, magazines, and junk mail. While you can recycle postconsumer waste in this activity, we'll concentrate mostly on using preconsumer waste paper. This is composed of scraps, trimmings, and other leftovers which are the byproducts of manufacturing goods. Preconsumer waste paper, then, is created before it reaches the consumer, and it's made as a result of manufacturing another product.
There are many sources of preconsumer waste paper in your town. While businesses and industries often sell the materials to recyclers who make it into new, recycled goods, the owners and managers will probably give you a variety of interesting papers at no cost. The following are some places where you can ask about the availability of waste paper and the kinds of materials you're likely to find.
Newspaper publisher: end rolls of newsprint. The paper comes on a large roll, and you can use rubber stamps to make wrapping paper. It's also a great source of paper for drawing and murals.
Printing companies and quick print shops: adhesive-backed paper and small scraps of waste paper, often available in colors. Some of the papers are glossy, making them hard to recycle commercially. The slick surface allows you to make a sharp stamp impression, however. Use scraps of adhesive-backed paper to make stickers.
In-house printing plants: small scraps of waste paper and end rolls. If you have large industries in your community, they may have their own printing facilities. Call the general office, and ask to be connected to someone in charge of the printing plant.
Office supply stores and greeting card shops: discolored paper and/or envelopes. After a time, paper will discolor or fade, making it unsaleable. You can use rubber stamps, however, to recycle it to make stationery.
Interior design studios and paint stores: wallpaper sample books. Employees will donate their discontinued sample books which contain large, white or solid-colored pages that are ideal for rubber stamping. Use the printed sheets for other art projects such as collage.
Picture frame shops: foam and mat board. Foam board, a paper-covered polystyrene material, and mat board are used to frame pictures. In reframing pictures, the old mat is thrown away, and imperfectly cut mats aren't useable. Employees will share discarded mats and scraps of foam and mat board.
Greeting card shops, discount stores and others: blank envelopes and colored cardboard. Sometimes people who work in greeting card shops and those who service the card departments at other stores will share blank envelopes with you. After holidays, the retailer returns unsold cards to the manufacturer, but the envelopes are often discarded.
Another source of paper for rubber stamping is the colored cardboard placed behind the different kinds of greeting cards. Employees change displays after each holiday, and when the cardboard is removed, it's usually thrown away. Some of the colors available include orange and yellow (Halloween and Thanksgiving), red (Christmas and Valentine's Day), green (St. Patrick's Day), and purple (Easter). The back of the cardboard is white, and it's perfect for stamping to make bookmarks or gift tags.
Things to Make with Rubber Stamps:
Before the Industrial Revolution, everything was made by hand. As an artist or craftsman, then, you can make just about any paper product which is sold in gift shops and other stores. The following are some suggestions of items you can make and decorate with rubber stamps.
Bookmarks*Bookplates*Stickers*Notecards*Stationery*Invitations*Thank You Notes* Greeting Cards*Shopping Lists*Tablets*Recipe Cards*Accordion Books*Scrap Books* Autograph Books*Address Books* Photo Albums*Calendars*Boxes*Cartons*Gift Bags * Wrapping Paper*Gift Tags*Etc.*Etc.*Etc.*Etc.*Etc.*Etc.*Etc.*Etc.*Etc.*Etc.*Etc.*Etc.*
Tips and Tricks:
Have a rubber stamp workshop to help raise money for your class or club. After you've gathered lots of preconsumer waste paper, set up an assembly line to make things to sell at a school bazaar or fair. Plan your sale near a holiday when people are looking for gift ideas.
Quick print shops often make small tablets from their scraps, and they sell them very reasonably. If you want to make your own for rubber stamping, you'll need lots of paper scraps for the pages and a piece of cardboard for the back. Have an adult use a paper cutter to make all of the pages and the cardboard the same size. Gather the sheets of paper and cardboard together, and brush on padding compound or adhesive on one end to make the tablet.
There are many creative ways to work with rubber stamps. Use colored pencils, markers, embossing powders or glitter glue to decorate your prints. Paper punches come in a variety of designs, and you can combine them with rubber stamp impressions to recycle paper. Visit Rubberstampmadness to learn more about this fun and easy craft.
The sun stamp design by Susan M. Brackney appears courtesy of Sparky Dog Stamp Company.
© 1997 Marilyn J. Brackney (updated 2018)
Volume 8 No. 4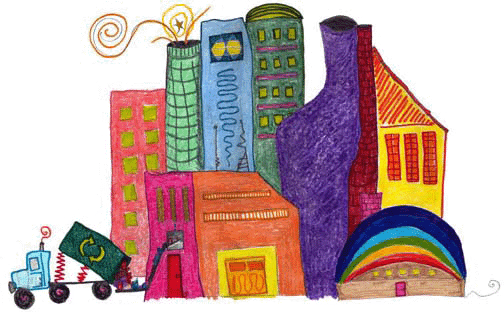 Return to Main Web Page
Previous Activities
Select this to choose other activities.