The Irwin Home and Gardens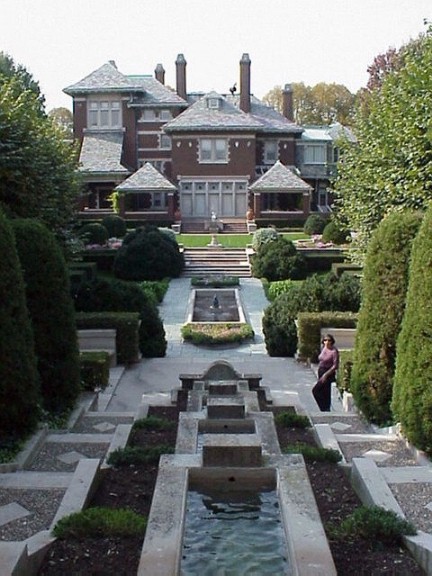 Located on a city block in the historic downtown, the Irwin Home and Gardens are favorite attractions for Columbus residents and visitors. Built in 1910, they were created to complement the mansion, which was completed in 1864. The grounds were designed after a garden in Pompeii, Italy.
Kids love the gardens, because they are home to numerous animal sculptures. A wild boar, bear, ram, and dolphin decorate a fountain in front of the Summer House, while turtles spout water into the small, round ponds in the main area. The bronze frogs and heron lounge on a birdbath in the Frog Garden, having taken up residence in 1928 after traveling all the way from Florence, Italy!
A large, bronze elephant is the focus of the main part of the garden. The original elephant, which was imported from Japan, was bought at the St. Louis Exposition in 1904. Nearly thirty years later, the Golden Foundry of Columbus recast the elephant that is seen today.
There are many surprise "cubbyholes" in the gardens, and it's fun to climb the steps to the Summer House and enjoy the view of the Irwin Home. Near the center of the property, a sundial shows the time of day, but don't be in a hurry. There are many benches on which to rest as you listen to the birds and enjoy the beautiful scenery.


The Irwin Home and Gardens were purchased in late 2009, and a few months later, the mansion was opened as a bed and breakfast called The Inn at Irwin Gardens. At this time, the gardens are closed, but the new owners hope to reopen them to the public.
We'll update information about the mansion and gardens as it becomes available. Visit The Inn at Irwin Gardens or additional information about the bed and breakfast. To learn more about our noted buildings and their architects, visit the Columbus Visitors Center.
Click on the small images to see full size pictures from the Irwin Gardens.
© 2001-2010 Marilyn J. Brackney
All Rights Reserved
Text and images may not be used
without permission of the author.

Return to a Kids Columbus