Freedom Field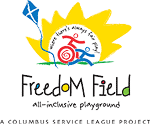 A very special playground was dedicated in Columbus on September 16, 2006. Under sunny skies, hundreds of excited children and their parents gathered for the grand opening and ribbon-cutting ceremony of Freedom Field.
Face painting, balloons, cake, and ice cream added to the fun. Mayor Fred Armstrong spoke and other important people were there, but the real stars of the event were the children and the playground.
Located next to Parkside Elementary School, Freedom Field came into existence because two Columbus mothers, Laurie Booher and Amy Lienhoop, decided there was a need for a playground that could be used easily by children with disabilities.
Besides coming up with the idea of creating the playground, the two sisters-in-law managed to raise more than $500,000 to pay for the equipment and construction. Now Booher's 8-year-old son, and many other children with special needs, will have the opportunity to play on equipment that was once off limits to them.
While Freedom Field was designed to give children with special needs the opportunity to enjoy playground equipment, it has other benefits, too. More than 11,000 disabled adults live in Columbus, so the playground gives them the chance to enjoy the park with their children or other young relatives.
The Playground
The 1.5-acre play area has a large section for older children, and a smaller one for toddlers. Freedom Field was designed by Landscape Structures, a playground equipment company located in Delano, Minnesota. The designers create their play structures so that kids of all abilities can play together. According to the company's philosophy, those at Landscape Structures believe that "no child should be left on the outside looking in."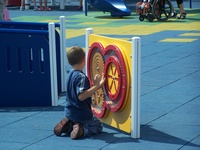 After the dedication ceremony, physically disabled and able-bodied children played together on a 25,000 square feet checkered, rubber surface. Some of the play space's features include ramps that are wheelchair-accessible, a three-dimensional climbing web called Spacenet, a rock wall, a "Sway Fun" Wheelchair Glider, Bucket Swings, Roller Slide, and futuristic-looking teeter totters. Freedom Field also has Play Panels, including one with chimes and another with Braille letters.
Many Cooperated to Create Freedom Field
In order to make their dream of building the playground a reality, Laurie and Amy asked the Columbus Service League for help. The purpose of the organization is to foster projects that make Columbus a better place in which to live, and it was instrumental in the creation of the playground. In addition to committing $25,000 to Freedom Field, the group received $100,000 from an anonymous donor on behalf of the project.
To help raise the needed funds, Columbus Service League members applied for grants,and they gave presentations to local organizations to inform members about the project in order to get private donations. Also, the group was able to obtain in-kind donations, which totaled $100,000, for excavation and concrete.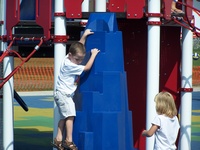 The City of Columbus gave three acres of land at Blackwell Park for the construction of the playground. Columbus Parks and Recreation donated nearly $100,000 to help pay for the equipment and to update the current restroom and shelter house, so that they meet current A.D.A. standards. The Parks and Recreation Department will be responsible for maintaining Freedom Field, too.
As you can see, it took the cooperation and hard work of many individuals and groups to create the playground, but that's the way things happen in Columbus, Indiana! If you're not familiar with our city, we invite you to visit and discover Columbus. Go to Mapquest, www.mapquest.com and type in Parkside Elementary School and Columbus IN in the search functions to find a map and directions to Freedom Field.
Thanks to Laurie Booher and Amy Lienhoop for your vision and hard work in making Freedom Field a reality, and thanks, also, to the City of Columbus, Columbus Parks and Recreation Department, Columbus Service League, Indiana Ready Mixed Concrete Association, and the many donors for providing a wonderful playground for ALL kids!
Click on image to enlarge
| | | |
| --- | --- | --- |
| Web Tower | Web Closeup | Roller Slide |
| Where's the ground? | Crossing over | King of the web |
| Mountains to climb | Pickup game | Future engineer |
© 2006 Marilyn J. Brackney, All Rights Reserved
Text and images may not be copied
without permission of the author

Return to a Kid's Columbus